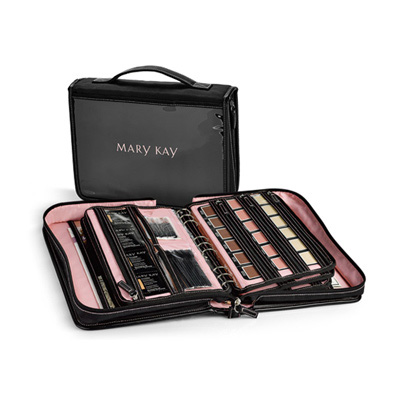 Includes 6 double sided nylon and vinyl pages with a variety of open and zippered compartment options.
Each page featuring 3 zippered compartments can be used to store your Mineral Eye Color and Crème Lipstick Samples.
Each page featuring 2 zippered compartments can hold samples of True Dimensions® Lipsticks, NouriShine Plus® Lip Glosses, Eyeliners, Lip Liners, TimeWise® Liquid Foundations, Foundation Primer, Mascara Wands and Sponge Tip Applicators.
Each page featuring both a single large zippered compartment and additional open compartments will store your Satin Hands®, TimeWise® Cleansers and Moisturizers, Day and Night Solutions, Repair®, Eau de Parfum Vials and Towelette Samples.
Advertise your Mary Kay business by placing the latest edition of the Look Book in the clear open sleeve on the outside of the carrier.
Store your sales tickets, order forms and other brochures easily in the clear open pouch located on both the front and back inside covers.